Adhara featured at Sibos 2019
Sibos is an annual banking and financial conference organised by the Society for Worldwide Interbank Financial Telecommunication (Swift) in various cities around the world. The 2019 event took place in London and featured more than 11 000 delegates, 600 speakers and 300 exhibitors.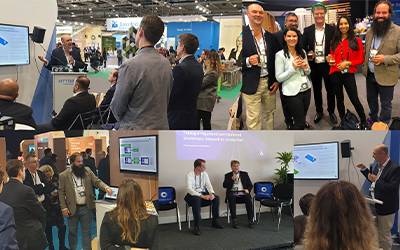 The launch of HubIT with everis:
Adhara CEO, Julio Faura, launched HubIT in partnership with everis. The solution optimises intraday liquidity for payments across banking group by hubbing payments through a designated entity. Through this partnership, everis integrates Adhara's multi-currency global liquidity management and international payments platform into its financial clients.
A Concept Demo of Liquidity and International Payments using USC with Fnality
International:
Fnality International (www.fnality.org) is the commercial realisation of a four-year Research & Development project (USC Project) that focused on understanding how market infrastructure needs to evolve to meet the challenge. Edward Budd, Adhara Co-Founder, provided attendees with a concept demo showing the business application of USC and how the end to end funding and payment frictions can be reduced by using USC.
Taking blockchain to production:
Sibos provided an ideal opportunity for Adhara's Co-Founder, Peter Munnings, to present our experience of taking permissioned blockchain based systems into production. This followed the recent announcement by ZAR X (a licenced exchange in South Africa) that it will be launching the first distributed settlement system for mutual funds in South Africa using Adhara's Token + solution. This is one of the first production grade blockchain projects to go live internationally. Adhara built the solution on Hyperledger Besu (by Pegasys) and we partnered with Pegasys to present our joint experiences on the project.
Over and above our presentations, Adhara was pleased to take part in a panel discussion arranged by Swift and meet with our clients and partners at the event.
Should you wish to know more about our business lines showcased at Sibos, please reach out to us. Sibos 2020 will be taking place in Boston from 5-8 October 2020.
Adhara featured strongly at the event, including partnering with key industry players to showcase our various business lines as follows: